Choose The Portable Hot Tub that's perfect for YOU
The most energy-efficient, truly portable hot tub – the Softub® – is available in four models! Explore and compare our options below to find the one that fits for your space and your lifestyle.
Need help buying a Softub® portable hot tub? Click the chat bubble in the bottom right corner or call 800-996-TUBS (8827).
The latest addition to the Softub® family! Introduced in 2020, the Portico™ is the ultimate tub in comfort, therapy and luxury design. It offers extended seating, with the option of lounging on our Therapy Station™ bench, while still allowing you to take full advantage of our popular barrier-free soaking experience. We've also incorporated the strongest jet in the industry: The Poseidon turbojet. The Poseidon jet can create a whirlpool effect or give you an intense massage.
Water Capacity

274 gallons

Filled Weight

2,608 pounds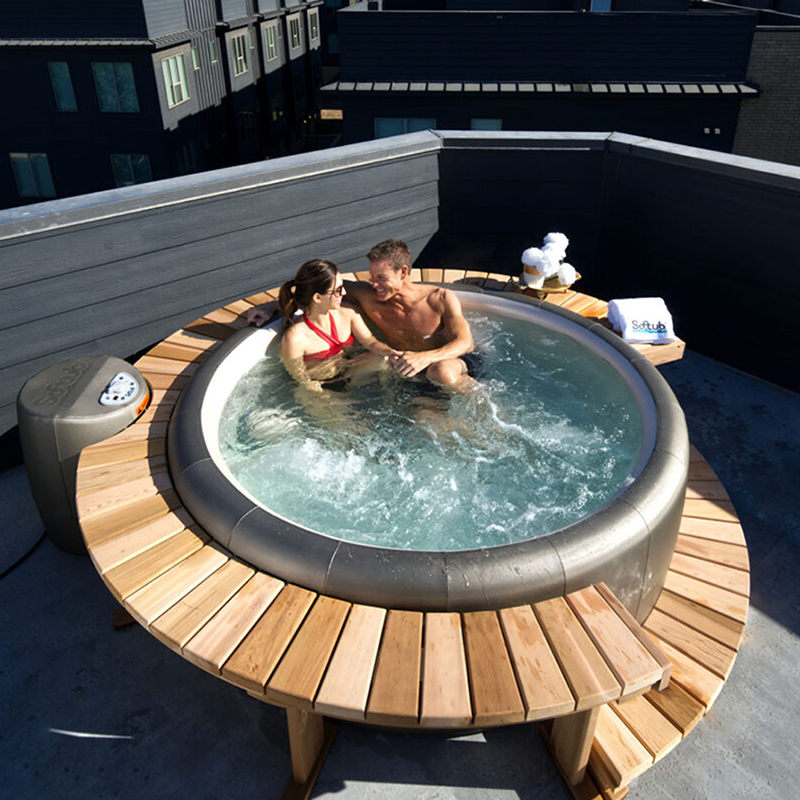 With five adjustable jets and two spinning, pulsating jets strategically placed to target hard to reach areas, the Resort is an excellent choice for comfort and relaxation. This Softub® comes standard with a built-in therapy seat, which uses two of the seven jets positioned just right to soothe your upper and lower back.
Water Capacity

300 gallons

Filled Weight

2,725 pounds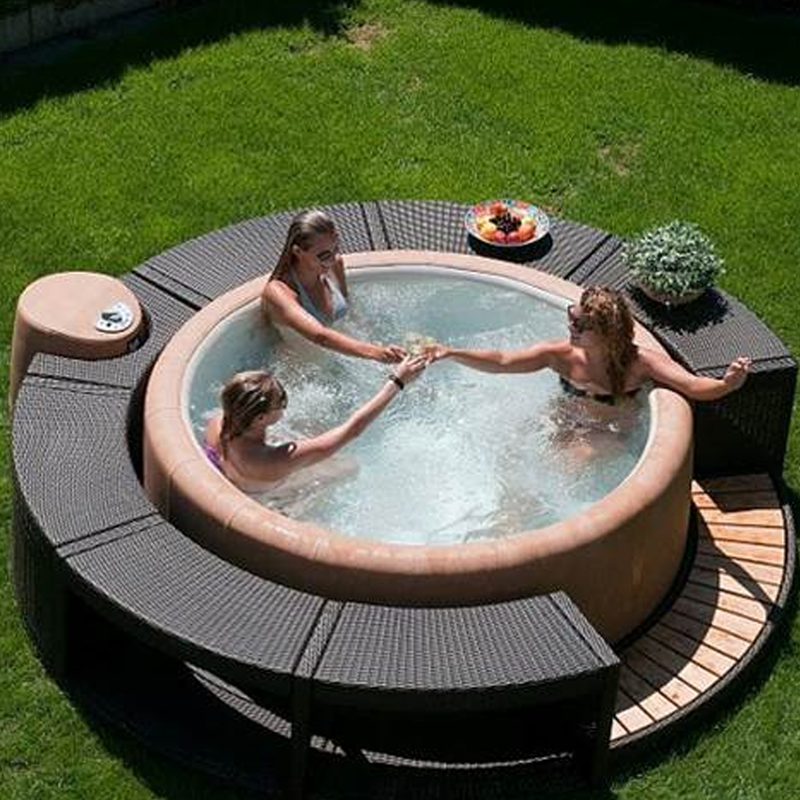 The Softub® model that started it all when it was first released in 1986! The Legend is cushioned for maximum comfort, features five adjustable jets and easily accommodates up to four adults, all while only making a 6-foot site footprint. It's perfect for those who want a spa that can fit more than two people without having to compromise in other areas.
Water Capacity

220 gallons

Filled Weight

2,119 pounds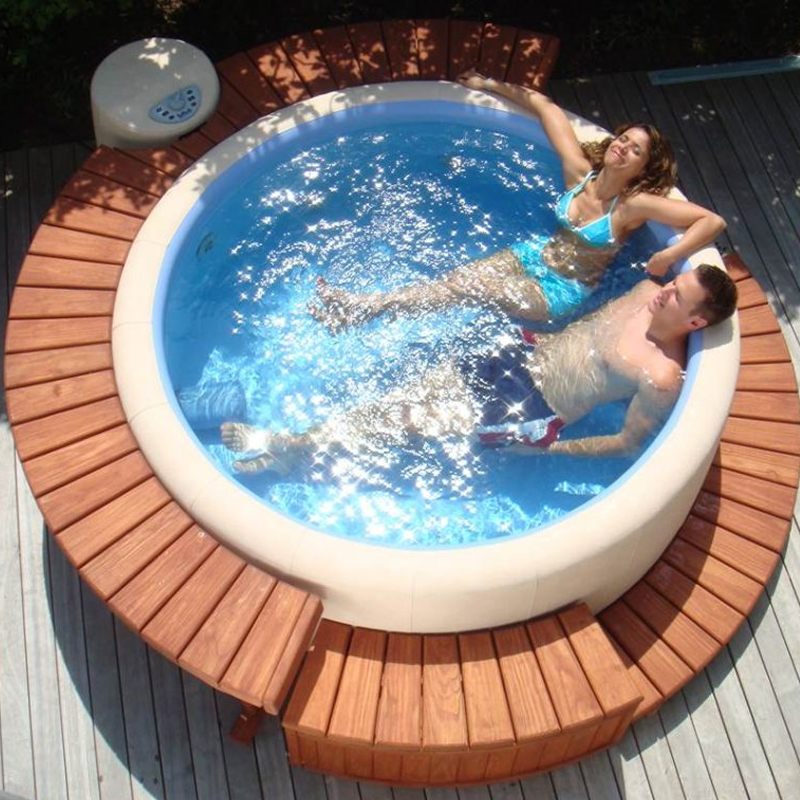 Take a soak at your leisure in the Sportster! Featuring four hydrotherapy jets, this Softub® is designed to maximize your enjoyment in a minimum amount of space.
Water Capacity

140 gallons

Filled Weight

1,445 pounds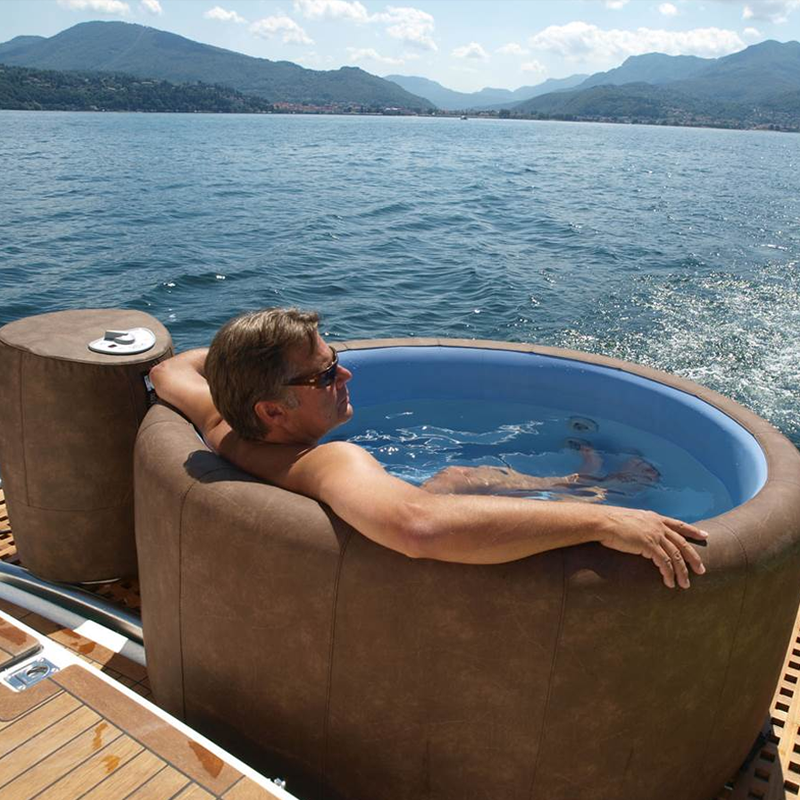 Thank you to all of our customers for being patient with Softub Express during these difficult times. With the COVID-19 pandemic still in a rise, our manufacturing facility is experiencing delays on parts and raw materials. Updates from our supply chains are at a standstill. Unfortunately, this leaves our valued customers waiting and getting a Softub® within a couple weeks' time is currently unattainable. We can't apologize enough for this.
Need Help Buying Your Softub® Portable Hot Tub?
We're here to help! Chat, call or email us with any questions and we'll guide you through your options. 
Portable Hot Tub Basics
Shipping & Returns
FAQs
Portable Hot Tub Basics
What is a portable hot tub?
A portable hot tub is designed to give consumers more flexibility with things like location and power requirements. A portable hot tub, like Softub, can be used indoors or outdoors and can be plugged into any standard outlet. Not all portable hot tubs can be rolled from location to location weighing less than 80 pounds when empty. Softub is the only portable hot tub that is insulated well enough to stay outside and running all year long, with little effect on your energy bill.
What is a the best portable hot tub?
For those wanting the benefits of a hot tub without all of the hassles, a Softub portable hot tub is the best choice. Softub combines the best of traditional tubs and their durability with portability and low electrical costs. Softub has been manufactured in the USA for over 30 years.
Are all portable hot tubs inflatable?
No. All inflatable hot tubs are portable but all portable hot tubs are not inflatable. Softub® is an example of a portable hot tub that is not inflatable. Inflatable hot tubs are not as durable, are not insulated, take longer to heat the water, and cost significantly more to operate. Softub® is a superior alternative to an inflatable hot tub.
What is a soft sided hot tub?
A soft sided hot tub provides the best of both worlds for those seeking to buy a hot tub. Softub, the leading soft-sided hot tub, requires no site prep, plugs into a regular outlet, is easy to install, is extremely cost-effective, and portable. One person can set up and install a soft-sided hot tub. Your tired, achy muscles and your wallet will thank you.
Shipping & Returns
FAQs