Softub® is The Original, Soft-Sided, Portable Hot Tub
A go Anywhere hot tub... Really!
A Softub® is durable, lightweight, truly portable and energy efficient, with easy do-it-yourself setup. It can be enjoyed year-round, both indoors and out!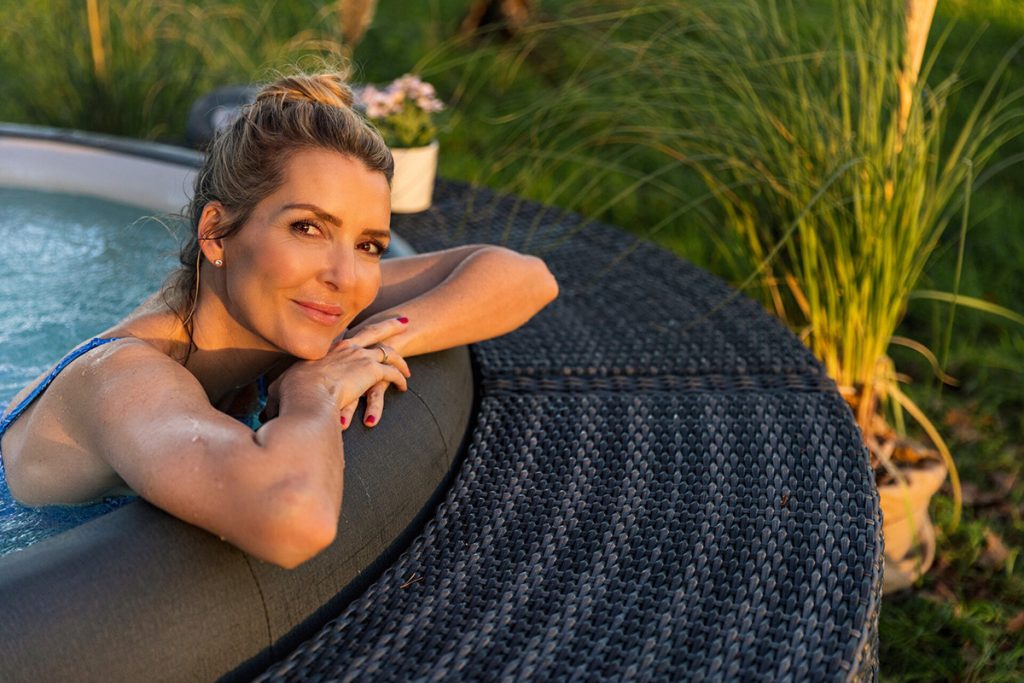 Portable
Our Softubs only weigh between 50 and 90 pounds when empty. When filled, it can sit anywhere a person can safely stand. Easily move it inside, including second floors, and outside through any season.
Affordable
Softubs are not only reasonably priced, they're also energy efficient! Simply plug into any dedicated 110-vault outlet and you're ready to go. Electric costs are roughly a third of a traditional hot tub.
Durable
The soft-sided Softubs are incredibly durable, supporting up to an elephant's weight! The design and materials can also withstand all seasons, and last decades with proper care and maintenance.
Comfortable
Fixed or assigned seating configurations of hard hot tubs don't easily accommodate all body sizes and shapes. But Softubs are made for comfort. It's like sitting on a couch versus a hard plastic chair.
Create Your Own Oasis Anywhere.
Setup's a breeze...as easy as 1 - 2 - 3!
Roll
Weighing 90 pounds or less, even our largest model can be easily rolled through standard doorways, up and down stairs, inside or outside, and across lawns by one person.
Connect
Simply align the three connectors, turn and tighten, then fill your Softub® with water from the garden hose. Plug the GFCI power cord included into any standard outlet (15 amp/120v).
Relax
Enjoy the ultimate luxury of stress-free tranquility, the rejuvenating effects of warm water massage, and the indulgence of soothing your mind, body and soul. You deserve it.
Softub Express is here to help!
We'll walk you through your Softub® size and color options, so you can find the perfect tub for your space and lifestyle. All our tubs include FREE shipping and a five-year warranty. Once your Softub® is up and running, we can help keep it that way with our full lines of water care and cleaning supplies — plus, we offer bundled savings!
What Softub® Owners are Saying About Their Portable Hot Tub...
Buying a softub was one of the best and easiest decisions we have made! Jennifer helped us from day one and made the entire process as easy as can be! We couldn't be happier with our new tub, it's what we wanted and more!
We bought our new portable hot tub from Softub Express and could not be happier. The website was easy to use and select options. Support was excellent and we had our tub in no time. We didn't truly realize how portable these tubs are. So easy to roll and use, especially when compared with our old acrylic hot tub.
Thank you Softub Express for our beautiful new Softub. We can't express enough how much we love our new hot tub and how great this company was to work with. We have wanted a portable hot tub for a long time and finally took the plunge!
Best experience hands down. I am so happy with every thing! I worked with Jennifer who was so so helpful every step of the way. The tub is awesome, so easy to set up especially with all of the extra help she gave me. Thank you so much for everything.